Students at Northern Beaches Christian School can choose their own adventure for the school's annual Student Opportunity Week.
For one week in May each year, all of Northern Beaches Christian School's 900+ secondary students head off on camp, with those in Years 8-12 choosing from one of the 15 interest-specific options offered.
"It is the highlight of the year for many of the school's secondary students," said the school's Principal Tim Watson. "The unique program offers such immense variety – students can advance their passions in particular sports or the arts or take on a new challenge. Each camp has been carefully selected to meet the interests and age and stage of our students, with only the Year 7 group allocated to the one camping adventure at Colo River."
Year 9 student Riley Redman, from Collaroy, who selected the elite surfing program, held at Surfing Australia's High Performance Centre on the Gold Coast, said it was the best experience of his time at school.
"I learned different techniques to train for surfing as well as some good workouts and stretches," he said. "The coaches were really great. We had Sambo, an ex-pro, and we had Corvin, who is an upcoming pro, and he taught me heaps which was great as I want to go pro some day. The big surf was super sick for the first two days."
The 17 students and two accompanying staff received elite coaching over the five days and surfed twice a day at top Gold Coast breaks – Kirra and Greenmount. "We watched [technical] videos, did acrobatics in the gym, did workouts and used the coaching resources there," Riley said. "I'd definitely do it again."
Camp programs range in duration from four to nine days, with some requiring daily attendance from home but most necessitating a live-in component.
Warriewood Year 8 student Chelsea McCredie, an experienced mountain biker, was thrilled with her four-day mountain bike program, held in the bike trails in Stromlo Forest in Canberra. The fact she was the one girl among the 18 participants didn't bother her.
"I kind of liked it just being the boys and I because I wanted to be pushed by them and beat them and I think they were surprised I could compete with them," she said. "I really enjoyed being around a group of mates who were not my social group from school. The professional coaching was really good too as I learned new techniques to get down the mountain and grew in confidence."
Budding artist Isabella Quail from Newport said her four-day art-making workshop at the Arthur Boyd Centre in Bundanon with other Year 8-10 students helped her explore different techniques and materials and gave her some ideas about what she could try at home.
"The painting I did took me three hours and it was great to have the landscape setting in front of you as it made it more real and calming," Isabella said. "Staff guided us through activities, and they were really fun – we first did collage and water colour, then we did workshops in charcoal and acrylic, and then made the 'met gala' dresses out of newspapers, which was really cool. I realised I'm much better at painting than drawing, so I might go out and paint a landscape from home. I also want to get better at water colour."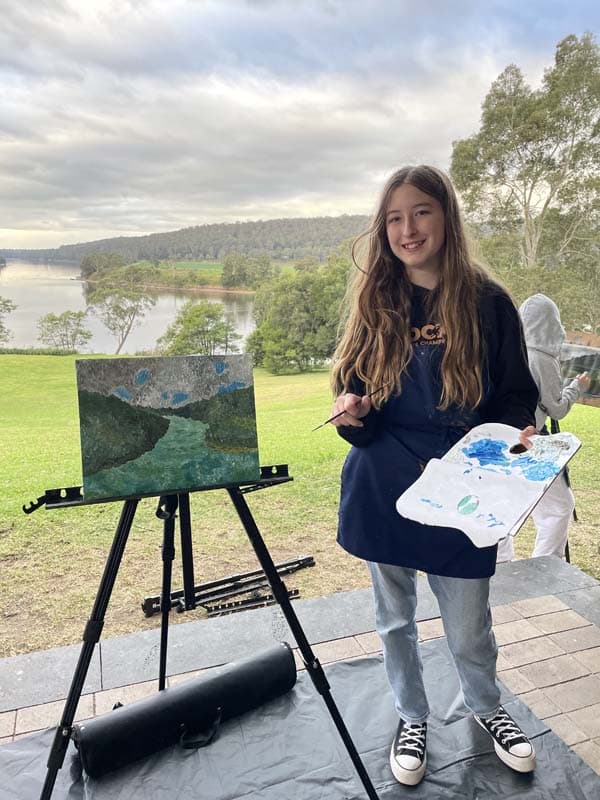 Mr Watson said each camp is designed to provide a positive experience that combines passion, teamwork, challenge and fun. "Students step into and out of their comfort zone, pursue courage, develop grit, grow resilience and mature in confidence," Mr Watson said.
"Students build friendships and come back to school energised and ready for the second half of term. One of the benefits is that secondary staff join a camp and journey through a program with a group of students, which really builds on teacher-student interactions. We pride ourselves on providing nurturing learning environments for our students and this week is a great opportunity for staff to continue to get to know the students in their care, which carries over when they are back at school."
The residential programs this year included: 'Coastal explorer' water activities on the South Coast, art-making workshops at Bundanon, an 'Urban Challenge' city program, Year 7 Colo River camping adventure, a high-performance surf camp at the Gold Coast, mountain biking in Canberra, a Sydney Harbour water sports camp, the Reef at Risk ecosystem study camp (Cairns), Year 11 retreat on Cockatoo Island and Year 12 study retreat at Port Hacking. Day programs included photography classes, STEM sumo-bots camp, cooking classes, fashion and design, drama camp and scuba camp at Manly.
To discover more of the unique learning opportunities offered at Northern Beaches Christian School, visit www.nbcs.nsw.edu.au or come on a school tour.