HSC Results
Every December, we celebrate the culmination of 13 years of learning by our graduates when the NSW Higher School Certificate results and Australian Tertiary Admissions Ranks (ATARs) are released.
At Northern Beaches Christian School, we recognise that excellence and success look different for every student, and we are delighted for all who give it their best shot.
We know our students as individuals and want to celebrate them as that. We celebrate our students' efforts as well as their results, their character as well as their achievements. We recognise the vital role and support of teachers and families, who support and cheer on our Year 12s to put in their best effort in order to have as many post-school opportunities as possible.
Our vision is Love Learning and our aim is that through this vision, our students will leave school ready and equipped to take their place in the world, to explore new opportunities, and to make a difference and contribution for good.
Our HSC results are also an indicator of the success of our teachers, leaders and support staff to provide the necessary learning and structures that ensure students can do their very best in the classroom. Our outstanding results are evidence that NBCS provides the pathways, activities and quality teaching that enable students to thrive and achieve at the highest level.
We invite you to read a summary of our most recent 2022 HSC results.
CLICK ON THE IMAGE TO VIEW OUR 2022 HSC RESULTS HIGHLIGHTS →
A chat with Aryan Ilkhani
ATAR 99.95 in the 2022 HSC
In 2022, we celebrated two graduates, Aryan Ilkhani and Jacob Murray, who both achieved the rare academic feat of a perfect ATAR of 99.95. We chatted to Aryan to find out his plans for the future and how NBCS supported his learning journey.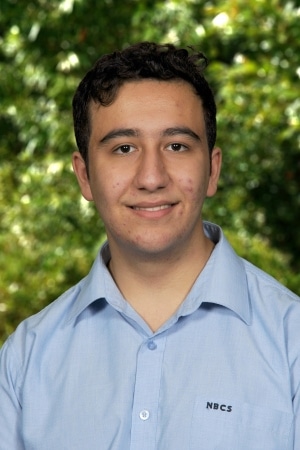 NSW All-rounder
5th in NSW in Modern History
What are your plans for the rest of 2023 and beyond?
I'm studying law and commerce, majoring in finance at the University of Sydney. It's what I always wanted to do and it framed my HSC goals. Commerce/law is quite difficult but I'm really enjoying law and I think I'd eventually like to go into corporate law. I've also joined lots of clubs at university and I work two jobs, one day a week for each. The first is tutoring Year 10 and Year 12 students in maths at Dr Du Education and the second is as an Electorate Officer, doing constituent correspondence for my local Federal MP Paul Fletcher.
How well do you think NBCS prepared you for university?
I think it was great. I think the school has hit a sweet spot (of balance) between its emphasis on wellbeing and academics. Life isn't just about having the ability to do maths equations, it's also about friendships and social skills and having opportunities to get involved in a lot of activities other than academics. I had a great time at NBCS.
How did NBCS help you excel academically?
I think all my teachers were great. They were willing to help us and put their time into marking past papers, looking over drafts and giving feedback. I was most uncertain about English and Mrs Clarke (Year 12) and Mr Clarke (Year 11) both really supported me and took my English to a whole new level.
Did you and Jake help each other and study together?
Jake and I were good friends from Year 10. We were both very motivated and loved Maths and English. Jake definitely challenged me and introduced me to new ideas and that sense of healthy competition propelled me forward. It was a such a fairytale ending for us both to get the highest ATAR possible. After the HSC trials, we worked together a lot and supported each other – I think I showed him different ways to do Maths and he got me more interested in English and philosophy. We both inspired and pushed each other.
What tips do you have for students wanting to make the most of their study time?
Study smarter, not harder. So many students waste valuable time writing up hundreds of pages of random summary notes instead of spending time on ideas, on theses and practice papers. You need to know your destination before you're walking towards it, so find out what the final exam is going to look like – what sections and types of questions will be asked. In Maths, doing 10 of the same types of questions regularly and past papers is how you do really well in the HSC exam.
Secondary School Virtual Tour
Northern Beaches Christian School –
Where extraordinary journeys begin