NBCS places a high mandate on vision and leadership
We seek to develop core leadership skills and principles in our staff and students, upholding our values of Gratitude, Respect, Courage, Compassion and Commitment. As we look to the future, our leaders are guided by our strategy and united in their commitment to our Mission and Vision.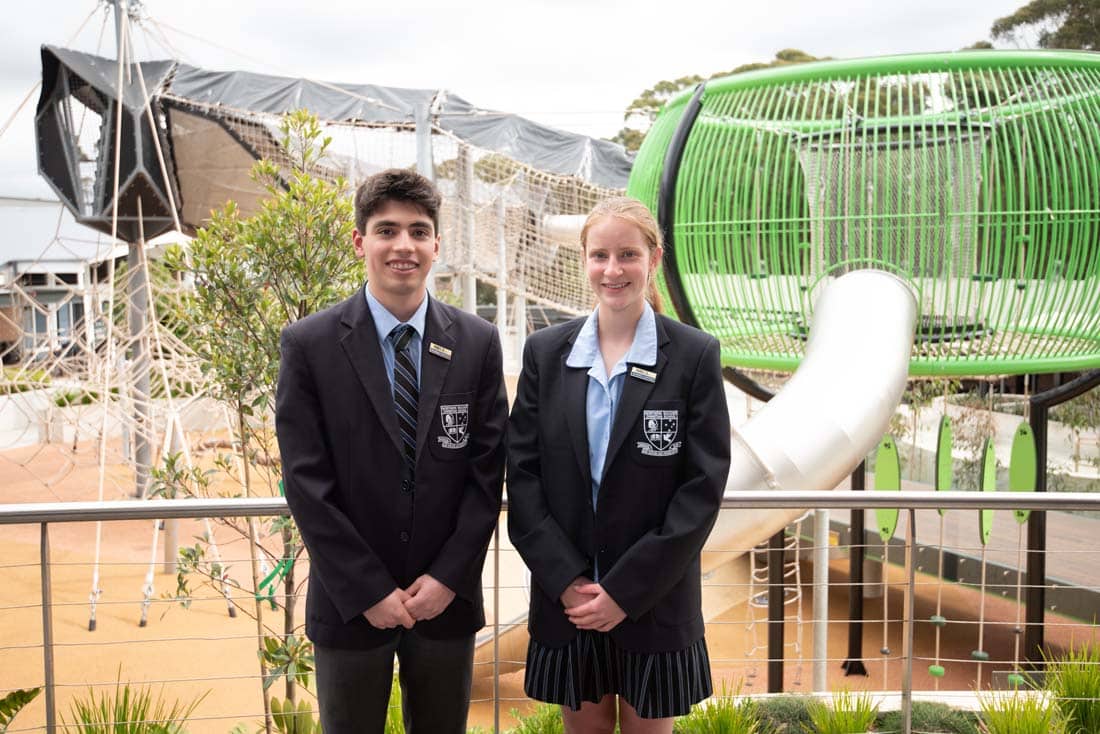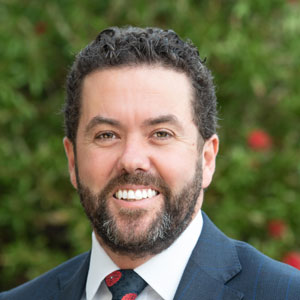 Tim Watson
Principal
Tim Watson has 28 years of experience as an educator and leader in education. He has a rich understanding of the challenges that face students today and is excited about working with staff and students in developing the character and capacity necessary for students to lead fulfilling lives: lives in which they make key contributions to their community and to society.
His previous roles at Crusaders, SCECGS Redlands, Abbotsleigh and Roseville College have seen him deeply involved in the organisational, strategic, staff development, learning, cultural and wellbeing aspects of school life. He holds a Bachelor of Arts with majors in Ancient History and Law, a Master of International Relations with a focus on International Systems and the Middle East and a Master of Educational Leadership focusing on Organisational Change. He is a member of the Australian College of Educators, the Australian Council of Educational Leaders and the Australian Institute of Company Directors.
An historian, he has taught senior classes throughout his time in leadership positions. In the past two decades he has been an HSC marker, senior marker and judge in Modern History. He is a strong proponent of 'a culture of us' – through which students, staff and families share values and work together to achieve the common goal of providing students with a rich education for life. Tim sees teaching 'as a craft, a mixture of art and science, deeply human, and above all, relational.'
Senior Leadership Team
Our Principal is supported by the Senior Leadership Team, who together translate our vision and mission into the overarching strategy and daily functioning of the school.
The Senior Leadership Team (SLT) includes key leaders of curriculum, learning, student welfare, pastoral care, and professional development. All share the desire to see our students achieve at their greatest potential.
Read More
Educated at Macquarie University and a Chartered Accountant since 1991, Santino Dimarco joined NBCS as Business Manager in October 2021. With over three decades in finance and operations, and serving on not-for-profit boards including Northcross Christian School, The Crusader Union, and Arden Anglican School, Santino brings a rich expertise to leading the financial stewardship and sustainability of the school.
Early in his career, Santino worked in both large and small accounting and consultancy firms, as well as in the banking and finance sector (including Touche Ross, Deloitte and Commonwealth Bank), before commencing his own practice in 2001. Selling his business in 2010 gave him the opportunity to serve in ministry at St Andrew's Anglican Church Roseville in finance, operations, and a music leadership role (he plays keys and drums), until 2021.
Married to Meredith and with three adult children, Santino's professional and personal life is shaped by his Christian faith. He draws particular encouragement from his favourite bible verse, Proverbs 3:5-6 "Trust in the Lord with all your heart and lean not on your own understanding; in all your ways submit to him, and he will make your paths straight."
Read More
Craig is an experienced teacher of 25 years. Craig joined the NBCS team in 2000, and has been Deputy Principal since 2003. In this role he has carried the vision of NBCS through leading the day-to-day operation of the school and ensuring that the DNA of leadership is embedded within the entire school community. A significant part of Craig's role has been responsibility for the implementation and development of technology within the school. He gives expression to vision through oversight of projects such as the Personal Digital Devices Program (PDD) and the online learning resources.
Read More
As Head of Secondary, Drew is responsible for the leadership and organisation of the Secondary School. He is an experienced educator, who has been a part of the NBCS community since 2001. During this time Drew has held roles as a PDHPE Teacher, Year Adviser, Head of PDHPE, Head of Sport and Assistant Principal Wellbeing. Drew is on the cusp of completing a Masters of Educational Leadership through Wollongong University.
In the Head of Secondary role, he is looking forward to building on the positive culture already established at NBCS by supporting staff, students and parents to develop a Love of Learning, and a focus on Christianity in Action, and Excellence in Education. All of this is to set students up for achieving their personal best and to open up the greatest number of opportunities for life after school.
Read More
As head of Primary, Mrs Julie Smith has built a culture of excellence in teaching and learning that stand alongside Primary programs underpinning the Wellbeing framework at NBCS. Her aim is that each child in Primary is well-known, well-loved, and well-taught.
The Primary team, led by Julie, is committed to empowering students to recognize their resilience and resourcefulness as learners, so that they can flourish and thrive in safe and respectful learning environments.
Julie holds a Master's in Educational Leadership from UNSW and considers herself to be a lifelong learner. Before coming to NBCS, she led the Learning Enrichment team at St Luke's Grammar School. She has spent her teaching career working alongside staff enhancing quality teaching practices that support students achieving success and loving learning.
Read More
Tim joined NBCS in 2005 as a Science/Geography teacher, following completion of a Bachelor of Science (Environmental) degree and Graduate Diploma in Education. He also completed a Masters of Educational Leadership through Macquarie University. Taking leave from NBCS in 2008-09 to live and work in Phnom Penh, Cambodia, Tim brings a passion for both 'Excellence in Education' and 'Christianity in Action' to his leadership and teaching.
Read More
As Director of Wellbeing, Pippa is responsible for implementing and planning Wellbeing programs and initiatives across the school (K-12). She is an experienced educator who has been part of the NBCS community since 2016. During this time, Pippa has held roles as an English Teacher, Wellbeing Adviser, and Year Adviser. She has taught Senior English for many years and has been an HSC marker. Pippa holds a Batchelor of Arts with majors in Psychology and English, and a Diploma of Education.
Pippa believes that developing social and emotional competencies are key to supporting student Wellbeing at NBCS. She leads the Wellbeing Team to ensure the welfare of all students, fostering high expectations of behaviour. She understands the vital role of parents in supporting student wellbeing and values parent communication and involvement. Through implementing the NBCS Wellbeing Framework, Pippa aims to build upon the strong foundations already in place, ensuring a strategic and integrated educational approach to Wellbeing in both Primary and Secondary.
Read More
Mick oversees the case management and resolution of issues relating to Child Protection, Mental Health and Wellbeing, and Bullying/Harassment.
Mick has many years' experience and is skilled in conflict resolution, mediation and case management of student issues in Secondary.
Mick is a registered Child Protection Investigator with the Association of Independent Schools. He is responsible for ensuring that issues concerning the wellbeing of students are managed appropriately and that all investigations are conducted with procedural fairness and natural justice.
Mick has a Masters Degree in Education.
Read More
Lisa is a Human Resources and Learning and Development professional. Lisa has a passion for supporting NBCS' mission by facilitating effective business processes and supporting its people.
In her role at NBCS, Lisa combines her business background in corporate, small business and consultancy, along with Education, to support NBCS operations, strategy and Human Resource requirements.
Leveraging her HR background, Lisa supports the Executive team with employee recruitment, engagement and other HR matters.
Read More
As the Director of Teacher Quality, Jann directly contributes to the strategic goal of teacher excellence by leading, managing, supervising and supporting the process of Teacher Accreditation and targeting of high quality Pre-Service teachers. She is one of the key decision makers in the exercise of school policy and procedures relating to compliance and accreditation of NBCS Teaching staff.
Jann's role is to provide professional accountability and ensure that our teachers have appropriate levels of professional knowledge, practice and professional engagement that will improve the outcomes for our students.
Read More
Damien first arrived at NBCS in 2004 where he taught PDHPE, Mathematics, History and served as Community Leader. In 2010 he felt God's call to study theology and spent the next three years completing a Master of Divinity at SMBC. It was here Damien thought deeply about the Bible, worldviews, and cross cultural communication. The past seven years saw him serve as the Middle School Chaplain, and later the Secondary School Chaplain, at Barker College. He has also been a keynote speaker at various camps and conferences, including KYCK and Crusaders.
Damien is passionate about Jesus and enjoys walking alongside students, staff and parents on their faith journey. He is responsible for the oversight of Chapel, Christian Studies, and voluntary groups where students can go deeper in the Christian faith. He often says we will teach students 'how' to think, not 'what' to think. Damien is excited to return to NBCS to help students find meaning, articulate their beliefs, and see people become the best version of themselves under God.
Our Board
As a not-for-profit company, the NBCS' Board adopts a corporate governance model that provides strategic direction, mentorship and accountability.
Our Board is a highly collaborative team, bringing together a wealth of professional backgrounds, including education, finance, business and government. This diversity of experience and expertise, enriches and supports our strategic planning and goal setting processes, helping us stay true to our Mission and Vision. The Board plays an invaluable role of keeping us accountable to our educational purpose and financial management of the school.
Read More
B.Ed., Dip.Teach.(Mathematics), Grad.Dip.Ed.Studs, M.Ed.
Eric has spent over 30 years in senior leadership roles in leading independent schools in Sydney and as Head of The Scots School, Bathurst. He has also held senior management roles in private enterprise ventures in the property sector. As an experienced school leader Eric's role on the Board of NBCS is to draw on his experience in education and business. He wants to share his passion for education with a desire to see students achieve their potential, learn to think critically, to live intentionally, and to be the best they can be. He believes all children have extraordinary God-given potential and the NBCS environment provides the opportunity for students to realise their potential and to respond to God's call on their lives. Eric believes NBCS is well positioned to build on its excellent reputation for responsive, personalised and cutting-edge educational practices and to achieve outstanding character development and academic outcomes for all students.
Read More
Lesley has been involved in languages education in Australian schools and universities since the early 1970s. During the 1990s she was sessional Lecturer in Indonesian at Charles Sturt University, Bathurst. Lesley then moved to be Lecturer in Languages Other Than English (LOTE) Education at the University of Tasmania, where she completed her PhD in 2001. After Lesley's move to the University of Sydney in 2002 she became further involved in internationalisation of higher education, first as the Director of Study Abroad, Exchange and Short Term International Experiences in the Faculty of Education and Social Work from 2006, then as Associate Dean International from 2009 to 2014. Between 2007-2010, Lesley was President of the Australian Federation of Modern Language Teachers' Associations (AFMLTA), the national peak body for language teachers in Australia.
Between 2012 and 2014, Lesley was the Community Outreach Advisor for the Executive Committee of the Sydney Southeast Asia Centre, at the University of Sydney. Between 2010 and 2014, Lesley has been joint coordinator of DEPISA: Developing Educational Professionals in Southeast Asia, a bi-annual meeting of educational professionals from Thailand, Laos, Indonesia, Vietnam, the Philippines, Malaysia, South Korea, and Australia.
She has sole-authored and joint-authored/edited numerous book publications, book chapters and refereed journal articles since 1990. She has reviewed papers for a number of national and international languages education journals.
Lesley has supervised numerous doctoral, masters and honours projects to completion. She has consulted on languages education to schooling systems and government agencies, and has designed and taught many language teacher professional development workshops and programs.
Read More
Andy has a diverse business and training background. 8 years in the British Army, including RMA Sandhurst – then working in Norway, Northern Ireland and Germany. Andy's final British Army job was as a Captain, teaching as a military advisor in Nigeria.
This was followed by 18 years in Unilever working as a tea and then coffee buyer managing businesses for Lipton, working mainly in Sri Lanka, China and Indonesia, with brief stints in Kenya and India. Finally, Andy was posted to Australia in 1992 where he ran the Unilever coffee business.
For the last 22 years he has run his own businesses and been involved with Belaroma, Seven Miles Coffee, Cafe2U and BrewHub and has been on the boards of other NFP organisations.
Andy is currently an active member of Disaster Relief Australia and his local church, is based in Sydney and married to Fiona with two adult children.
Read More
​Rev Keith V Garner
MTh (Oxon)
Keith and Carol came from the UK in 2005. Keith trained at Wesley College, Bristol and gained his Master of Theology through the University of Oxford. After 25 years as a Methodist leader in Britain, he was invited to be CEO and Superintendent of Wesley Mission.
His leadership at Wesley Mission involved 2,400 staff. A wide range of welfare and service provision was directed to the aged, families, the unemployed and homeless, those experiencing financial stress, addictions and personal crises. He was a director of the Community Council for Australia. He grew suicide prevention work in over 120 networks across Australia. He conducted live television Easter Day Services from Sydney Opera House for fifteen years and a weekly TV program. He is currently taking part in the launch of a Channel 9 TV program entitled "Helping Hands" showcasing people and organisations seeking to make the world a better place.
In 2018, Keith was a signatory to end street sleeping in NSW, becoming a founding board director for the End Street Sleeping Collaboration. He was an initial board member of the major religious organisations group SEIROS (The Study of the Economic Impact of Religion on Society).
Keith hosted two documentary series – "John Wesley: The Man and His Mission" which won awards at the International Christian Film Festival, and "The Man of Galilee" filmed on location in Israel. He produces a weekly radio message on United Christian Broadcasters in Britain.
Keith was made a Member of the Order of Australia (AM) in the 2015 Queen's Birthday Honours for "Significant service to the community and for being an advocate for people who are homeless and socially disadvantaged".
Keith and Carol became Australian Citizens in 2008 and, after retiring from Wesley Mission in 2021, they live in Belrose, and Pittwater Uniting Church is their spiritual home.
Read More
Kerryn has a background in finance and marketing. She has worked in Australia and overseas in various roles with Price Waterhouse, Regent Hotels, Four Seasons and the Centre for Public Christianity. Kerryn is also on the Board for Collective Shout, an organisation which campaigns against The Sexualisation of Children in the Media Industry. She has worked with a number of charities and is an Ambassador for the Gidget Foundation, and has been Patron for a charity group Peninsula Pals which raised funds for several charities looking after vulnerable children and youths. Kerryn has travelled overseas with World Vision to Cambodia to highlight and observe their work with education and the effects this has with improving the lives of whole communities. She is passionate about Christian Education and the impact this has on our our society today. 
Read More
After having been brought up on a sheep station near Bourke and then going to boarding school at Waverley College, Kerry decided that he would be more suited to City life.
Having studied accounting and operating his own business since his mid-twenties. Kerry has bought and sold several businesses over several decades.
Kerry has been a committed Christian since the early 1980's and worships at C3 Oxford Falls. He has been married to Dee for 45 years and they have three children and seven grandchildren.
Kerry and Dee's history with NBCS goes back to being a part of Northern Beaches Christian Centre which birthed the school. Their son Nick started at the school in 1988 and Dee was employed at NBCS, working with Andrew Harper in the sports department. Together they created the Outdoor Ed program during that time.
Kerry was previously on the NBCS Board from 1994 – 2000. During and since that time, he has seen God's blessing on the school, providing NBCS with a wonderful modern learning centre and a holistic environment that will set up the generations to come both with the life skills that they will need and to also be the best version of themselves.
Kerry is excited to be a part of the future of NBCS, especially as his grandchildren will be attending NBCS.
Student Leadership
Our students have many opportunities to develop their character and leadership skills. We seek to equip and nurture our students with the skills to take on leadership roles, instilling in them a sense of confidence, ownership and responsibility. Ultimately, we want to prepare them for further leadership opportunities beyond school, so they can continue making a difference in their community.
There are many ways that our students can contribute to the life of the school as a leader.
Both Primary and Secondary have leadership teams that comprise various leadership roles. In Primary we have School Captains, Vice Captains, Student Leaders and Year 6 Buddies.
Similarly, in Secondary, we appoint School Captains, Vice Captains and Prefects in CRU, Service, Academic, Wellbeing, Co-curricular, Sports, Media & Production, and House Prefects.
Our Student Leaders are a vital part of building a strong, connected community and a school that we can all be proud of.
Northern Beaches Christian School –
Where extraordinary journeys begin