Convenient and safe transport options
NBCS is serviced by an extensive bus network making travel to and from the school campus accessible and convenient.
Student travel is subsidised by the Government for travel directly between home and school. There are many services that connect NBCS to the Northern Beaches, North Shore and other areas of Sydney.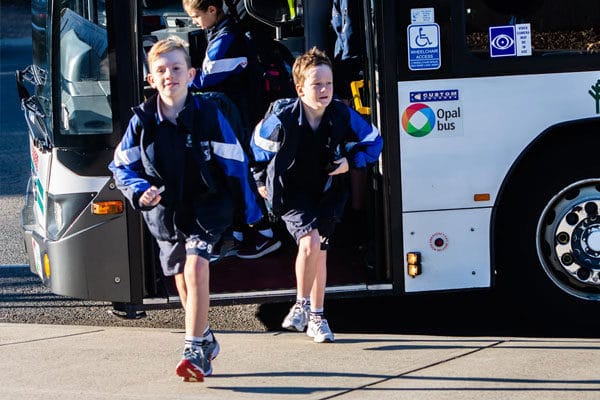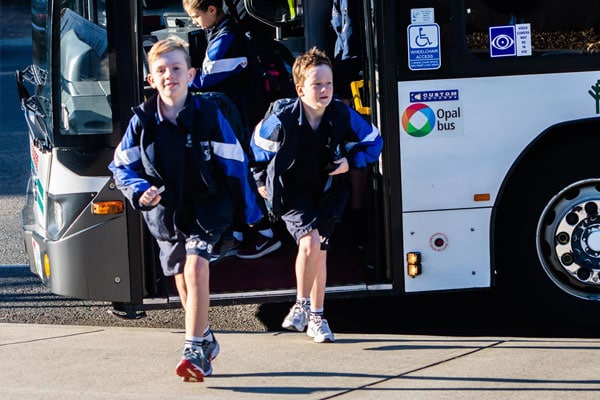 CDC Forest District
CDC Forest District is part of CDC (Comfort DelGro Global) NSW, who run designated school services in the Metropolitan, Outer Metropolitan and Regional areas of NSW, as well as Australian Capital Territory (ACT).
They operate under multiple brands, including Transdev and Forest Coach Lines in Metropolitan Sydney.
Suburbs Serviced
Belrose, Frenchs Forest and Chatswood
Elanora Height and Narrabeen
Mona Vale (connection to Sydney Buses)
Terrey Hills, St Ives and Gordon Station
Pymble
Cremorne and Seaforth
Pymble/North Turramurra
Hornsby via Wahroonga Station
Gordon, Killara, Lindfield ad Roseville
Mr Kuring-gai and Berowra Heights
Turramurra Station
West Ryde and Macquarie Park
Sydney Buses
Services for Sydney Buses connect with Forest Coach Lines and Shoreline services for regions outside of locations listed above. Transport hubs include Mona Vale – connecting with services to Newport, Avalon and Palm Beach – and Narrabeen – connecting with services to Collaroy, Dee Why and Manly.
NBCS Private School Bus – Palm Beach Service
NBCS operates a Private Bus service to Newport, Bilgola, Avalon, North Avalon and Palm Beach. Bookings must be made for this service, with priority given to Primary students.
Technology making travel easier with Cue
Bus travel is made even easier by our next-generation, real-time transport app Cue, developed by the NBCS IT Team. This app allows users to easily discover where a bus is and real-time updates on arrivals and departures.
Cue allows staff, parents and students to easily track the status of morning and afternoon buses. The real-time on-route location and boarding status of each bus can be tracked and sent directly to users via push notifications.
The innovative app has caught the attention of representatives from local bus companies and Transport for NSW and has also received recognition and praise from the Minister for Transport, Andrew Constance.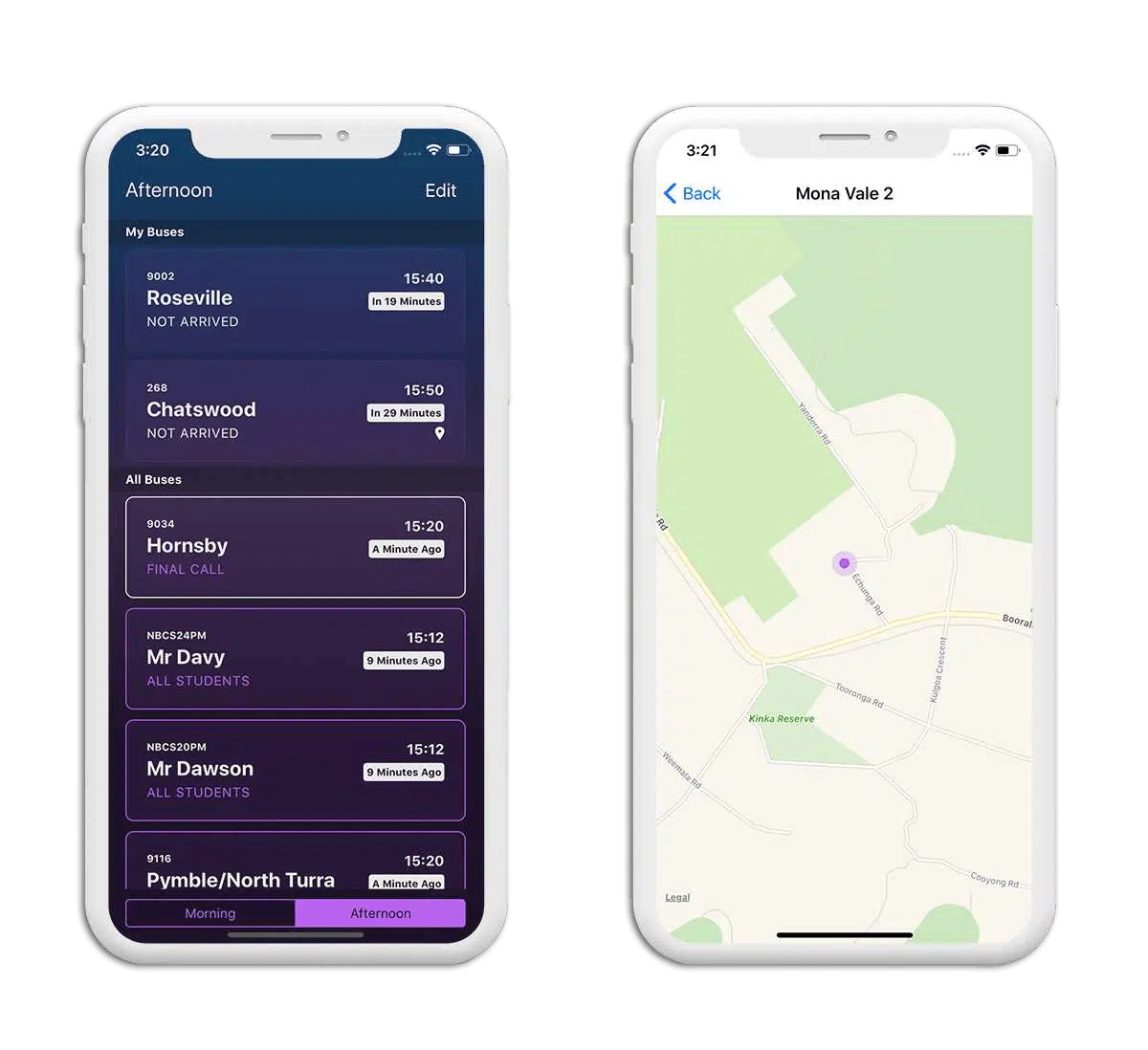 Safety on the bus
The safety of our students travelling on public transport is paramount. Bus Monitors are nominated to help with this process and Bus Buddies are paired up with younger students as needed. Bus terminals at the school are supervised by staff during arrival and departure. Students are always required to abide by Bus Rules to protect their safety. When seats are available, students are always to remain seated, with Primary students having seating priority and occupying the front seats of the bus.
School Opal Cards
The School Opal Card gives eligible students free travel to and from school between the hours of 6:30am – 7:00pm, Monday to Friday, for the train, bus and ferry services nominated in their application.
To qualify for free travel, students must always carry their School Opal Card on the bus, tapping on at the beginning of each trip and tapping off at the end. Bus drivers or company representatives can ask to see a School Opal Card at any time during the travel.
CLICK HERE to update your Opal Card details
CLICK HERE to apply for a new Opal Pass
For new SSTS School Opal card applications, students, parents or guardians will need to nominate CDC Forest District as their bus operator.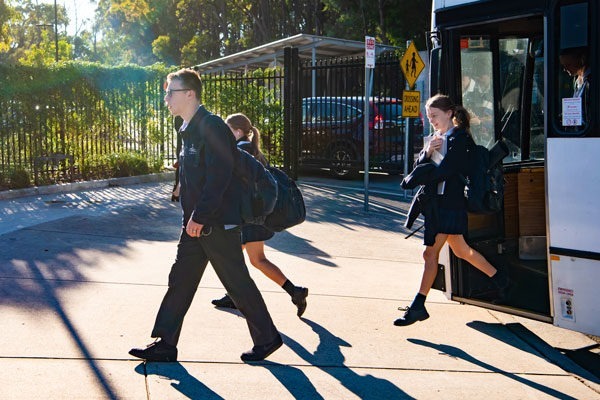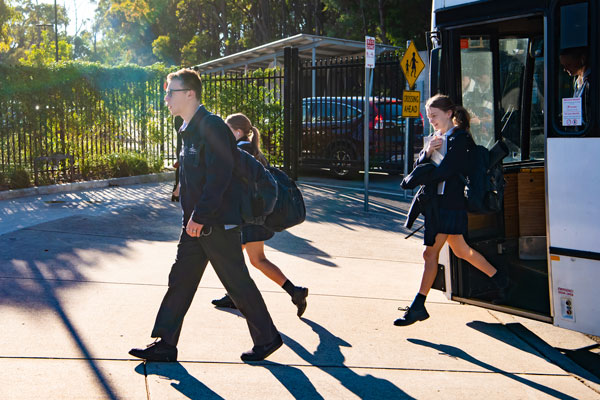 NBCS Uniform
School uniforms create an identity for a school and are an important part of being a student.
Uniforms demonstrate belonging and foster a sense of pride in appearance. At NBCS, our uniform is to look "smart" at all times, but options are also provided so that students can be comfortable while learning.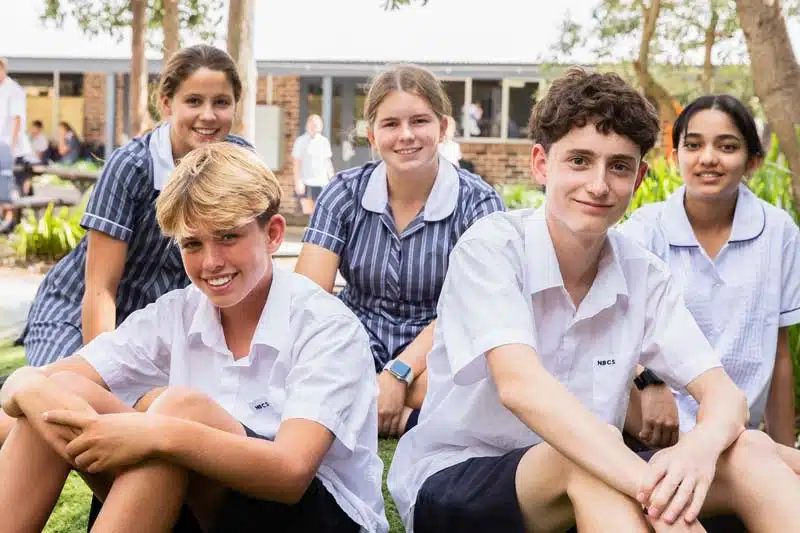 Sports Uniform
The NBCS Sports Uniform is to be worn for all Sport and PE activities. Students are to wear NBCS sports shorts and polo, with either the tracksuit top or softshell jacket if it's cold, the tracksuit pants are optional.
Specialised uniforms are also required for certain representative sports. More information can be found on the NBCS Sports Portal.
Summer/Winter Uniform
PRIMARY & SECONDARY
Students may choose to wear either the Summer or Winter
uniform at any time of the year, as is comfortable and as
weather would suggest. Students should not combine the
Summer and Winter uniform, but should wear one or the
other in its entirety.
Our Uniform Shop
Pickles Schoolwear is the retail service provider for all NBCS school uniforms, and is located in Brookvale.
Please refer to the Pickles Schoolwear website for opening times.
Enquiries: nbcs@picklesschoolwear.com or 0403 041 923
Shop online: www.picklesschoolwear.com
You can nominate to have your order picked up at the Pickles Brookvale retail outlet, or for a small postage fee delivered to your nominated address. Pickles will also operate a weekly collection point for orders at NBCS Main Reception, on Wednesdays 1:15 - 2:45pm (during term). 
Uniform Catalogue & Pricelist
LINK: Primary
LINK: Secondary
After-school Care
Our After School Care Programs are an extension of our school community, providing further learning and development opportunities for our students and providing working parents with peace of mind.
We have a close connection with OOSH at Cheeky Monkeys Play House (Warriewood) – who provide our school with an After School Care program. The ASC program includes: Afternoon Tea, Homework, Craft, Group games, 3 Storey Play Structure, Disco, Art, Movies, Board Games, Theme weeks, Cooking, Sustainability, Science, Gardening and Wii Games.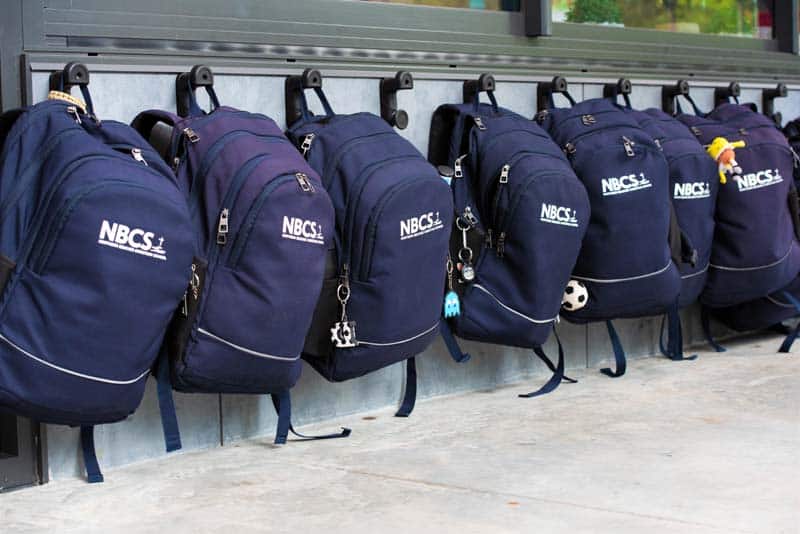 Cheeky Monkeys Play House Offers:
Peace of mind
A bus from Cheeky Monkeys comes to pick up students from NBCS for after school care. They liaise with us directly to coordinate the names of NBCS students using the service and pick up times from our end, to ensure a smooth transition for your child/ren.
How to apply
To make a booking or for more information, please contact Cherelle Bailey on 9999 0388 or oosh@cheekymonkeysplayhouse.com.au
The enrolment form and further information can be found by clicking the logo below.
NBCS Co-curricular Opportunities
Another option is to enrol your child in our Co-curricular program. The Co-curricular Program offers a range of creative and skills-based workshops held after-school, on various days of the week. You can choose from such options as music, dance, drama, art and photography.
Term Dates 2023
 

Kindergarten Interviews & Assessments: Monday 30 January, Tuesday 31 January

Years 1-6 Meet the Teacher Interviews: Monday 30 January


Year 7 Orientation Day: Monday 30 January

Years 8-12 Meet the Mentor Interviews: Monday 30 January

Term 1

Start (Years 1-12): Tuesday 31 January
Start (Kindergarten): Wednesday 1 February
End: Thursday 6 April

Term 2
Start: Wednesday 26 April
End: Friday 23 June
Term 3
Start: Monday 17 July
End: Thursday 21 September
Term 4
Start: Tuesday 10 October
End: Thursday 7 December
Term Dates 2024
 

Kindergarten Interviews & Assessments: Tuesday 30 January, Wednesday 31 January

Year 7 Orientation: Tuesday 30 January, 9:00am – 12:30pm

Years 1-12 Meet the Teacher/Mentor Interviews: Tuesday 30 January, from 1:00pm

Term 1
Start (Years 1-12): Wednesday 31 January
Start (Kindergarten): Thursday 1 February
End: Friday 12 April
Term 2
Start: Tuesday 30 April
End: Friday 28 June
Term 3
Start: Tuesday 23 July
End: Thursday 26 September
Year 12 Graduation – Friday 27 September
Term 4
Start: Tuesday 15 October
End: Thursday 5 December
Northern Beaches Christian School –
Where extraordinary journeys begin