HSC Music Performance Evening 
Our talented musicians showcased a selection of their HSC repertoire. Below is a brief compilation of select performances from the evening.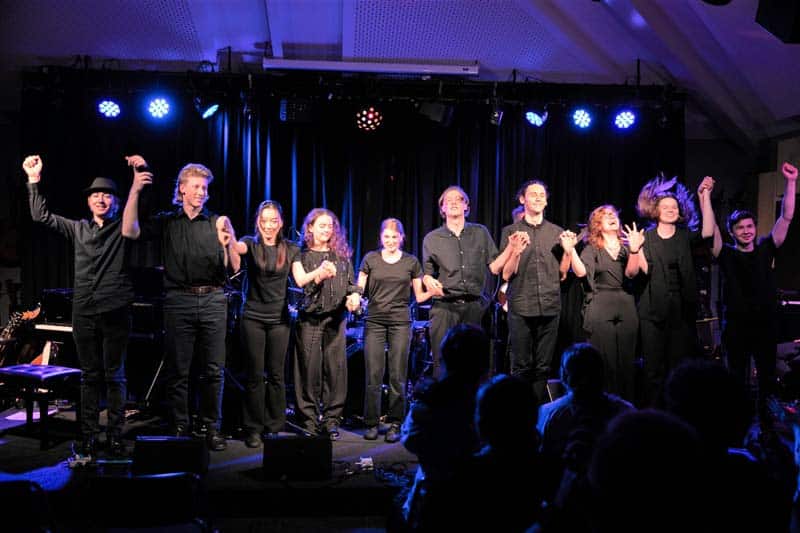 Please click the images below to view each student's gallery of their performances.
Sweet Child of Mine
Initiation
Affirmation
Cissy Strut
Mercy
No Good/Valerie
River
YYZ
Island Magic
Shibuya
Afro Mallets
MUSICIAN JOURNEY
Studying music in Year 11 and 12 has unlocked my passion for music and especially performance. The HSC course and having an excellent guitar tutor has pushed me to become a better musician. When choosing my repertoire, I wanted to challenge myself by selecting four pieces from different genres. These pieces still showcased my interests and strengths, particularly in jazz and rock. HSC music helped me to develop my technical and improvisation skills and stylistic technique. Nerves were quite a hurdle for me and usually led to frustration and a lack of confidence while performing. I found performing as much as possible was an effective method to overcome these problems. I plan to keep playing guitar into the future and perhaps join a band or even write/produce music myself. 
MUSICIAN JOURNEY
I've always been incredibly passionate about music and performance, and to be able to develop my skills as a musician and call it schoolwork has been amazing! Cultivating an understanding of my voice and style of music was a difficult process. Throughout the HSC course I moved through musical theatre and eventually settled with 60s pop, which allowed me to explore the role of a vocalist in a band ensemble. For my HSC performance, I focused on channelling my emotional connection to the music I was performing in order to establish an improved stage presence and I tried to simply enjoy showcasing the abilities I had worked to develop throughout Year 12. Taking part in this course has helped me understand the importance of music to my life, whether it takes the form of a personal passion or public performances. 
MUSICIAN JOURNEY
I have maintained a passion and interest in drumming since Year 3. My efforts to choose songs from a variety of sources for my HSC performances reflected this passion, with input from mentors and friends allowing me to form a varied repertoire that suits my tastes. Collaboration with other musicians at school has furthered this passion and helped me developed my stage presence, confidence and overall musicality as well as overcoming the nerves I usually feel when performing. Over time, I have also come to understand the subtleties and nuances that accompany the acoustic kit in comparison to its electric counterpart, and I utilised its differences in the 'palm muting' featured in my drum solo titled Afro Mallets. I intend to pursue music into the future. 
Love on the Rocks
People Help the People
Girl with One Eye
There's a Fine, Fine Line
Life in the Fast Lane
Satch Boogie
Misty
Morceau de Concert
Hunter's Moon
Dawn Interlude
Viking Saga
MUSICIAN JOURNEY
From Year 4 through to Year 10, I played the trombone and was part of the Senior Concert Band until Year 10. In Year 11, I stopped playing the trombone and picked up singing. Throughout Year 11 and 12, I came to realise that I have more potential to explore in singing then I previously thought. In my HSC Music repertoire, I selected a wide range of vocal pieces that showcased a variety of musical techniques and styles. I mostly love singing rock or pop music because I can express myself more with those types of pieces. I've only recently realised how much I love performing – I love giving people the enjoyable experience of listening to music.
MUSICIAN JOURNEY
I discovered my passion for guitar around the end of primary school when I began to be tutored by Steve Tongue, who taught me so much and opened my eyes to the possibilities of the guitar. I never really developed a favourite style of music, which made it hard to choose a repertoire for the HSC. In the end I chose a random song titled Satch Boogie, which was an incredibly complex song that I later feared I'd never be able to pull off. However, the more I listened to this song, the more I began to love everything about the artist Joe Satriani. Quickly, and to this day, his repertoire of songs became the ones I listen to in the car, during school work, and everywhere in between. 
MUSICIAN JOURNEY
I first picked up the French horn in Year 3, an instrument that seemed the shiniest and most appealing to a nine-year-old girl. Although classical music wasn't up my alley, I was able to deeply appreciate its complexity and beauty through playing the French horn. My HSC experience has improved my confidence. I was initially very shy and nervous about performing, but I confronted that and have grown in confidence as a musician and an individual. Looking ahead, I plan to continue playing the French horn in the Kuringai Youth Orchestra (as I have for the past couple years), and also pick up other instruments from my childhood such as drums, guitar and saxophone. 
2K4
Seven Steps to Heaven
Mr. Stanley
Rio Funk
B's River
Smells like Teen Spirit
Tu vuo fa' l'Americano
Volare
Can't Help Falling in Love
MUSICIAN JOURNEY
My Year 12 HSC Music journey has been transformative, nurturing both my passion for music and personal growth. Balancing studies and practice, I honed discipline and time management. Overcoming technical challenges, I discovered the power of perseverance. This journey bolstered my confidence, enhancing my stage presence and resilience. Stepping onto the stage, I channelled nerves into a heartfelt connection with the audience. Post-performance feedback revealed new insights, guiding my ongoing musical evolution. Armed with these lessons, I eagerly anticipate the next chapter of my musical odyssey.
MUSICIAN JOURNEY
Throughout my HSC year, I became more passionate about my music, and it extended me as a musician. I started playing bass guitar at the end of Year 10, so going into my two HSC years as a new bass player was quite nerve-wracking. The performance pieces I selected reflected my love for funk and jazz music and my desire to take an unconventional approach to well-known classics. As part of my HSC practical component, I completed a composition elective, which was a lot of fun. Overall, this year of music has been incredibly rewarding and rich for my growth and increased my confidence and desire to attempt new things. 
MUSICIAN JOURNEY
I chose to study HSC Music because I love performing on stage and sharing my passion with people. One of my passions is DJing, which I have been doing since 2019, and another is singing which I have been doing since 2021. My singing capability has grown with the help of my singing teachers. I chose to sing two Italian songs – Volare and Tu vuò fa' l'Americano – because I speak Italian. My third piece was Can't Help Falling in Love. I found it challenging to learn the Italian lyrics. Since one of the songs was Neapolitan, I could not understand it and had to translate the lyrics into Italian.
Goodbye Yellow Brick Road
Flame Trees
Crazy
They Just Keep Moving The Line
MUSICIAN JOURNEY
Singing has always been a passion of mine since I was very young. HSC Music provided me with an opportunity to learn and grow as a performer and has also helped me discover the styles which suit me best vocally. Choosing repertoire was a difficult task as I struggled to find songs that really fit my style but my vocal teacher and class teacher were a huge help. My repertoire includes a piece that has a time signature of 5/4 which was a major challenge, but I've really enjoyed working with a band and performing in assemblies and working with other members of my class. I've really grown as a musician. After the HSC, I hope to study music further at university and look at becoming a vocal coach.
Photographs of students and teachers were taken in accordance with COVID-19 regulations at the time.