"Give thanks to the Lord for he is good: his love endures forever."

– Psalm 118:29
I love it when the patterns of the school year fall into place and the benefits of routine, of the familiar, the consistent, are felt and seen. The beginning of anything new, a year, a school year, a new school, a new business venture, a new job, brings with it the prospect of anxiety and excitement. And while we are careful to avoid patterns becoming mundane and boring, patterns deliver routine, consistency, stability, and calm. Patterns also deliver the certainty that helps us manage and navigate the varying nature of our interactions and relationships. There is, and will always be, variety in day-to-day school life. Our job is to balance predictability and stability with variety to enable our students to self-regulate, to be well, and to love learning. I am happy to report that two fortnights into the school year, there is an air of fun, friendship, and calm across K-12. This calm, and the momentum it brings for learning, will pay dividends across the term and the year. It will equip us to cope and deal with change with a greater sense of control and equanimity.
The highlight of my week was a visit today from Kindergarten. They were interested to know more about my job (to love learning, and to look after people at the school), to find out about my favourite places around the school (the library, the oval, the playground, learning spaces) and to check out my office (the books and knickknacks were of particular interest). They were also pleased to know that we have the same job – to love learning and to look after other people.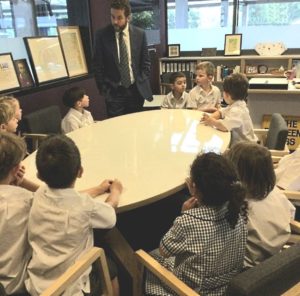 It is with sadness that we farewell Mr Brad Fuller, our Head of Music. Brad has had a remarkable impact at NBCS across the last decade, as his staff farewell this morning reminded us. In the words of a parent email which I received this morning, "I just wanted you to know how much Brad Fuller and his music program have meant to us over the past 6 years… The music program headed up by Brad has brought more inspiration and joy to our girls than any other class… I have also appreciated how he has given our girls a place to relax and enjoy at school through those crucial years… I really hope that the music program continues along the inspiring, brilliant path that Brad Fuller has set…" Farewell Brad, we wish you every success as you share your approach to Music to a broader audience at the Sydney Conservatorium of Music and complete your PhD.
Tim Watson
Principal